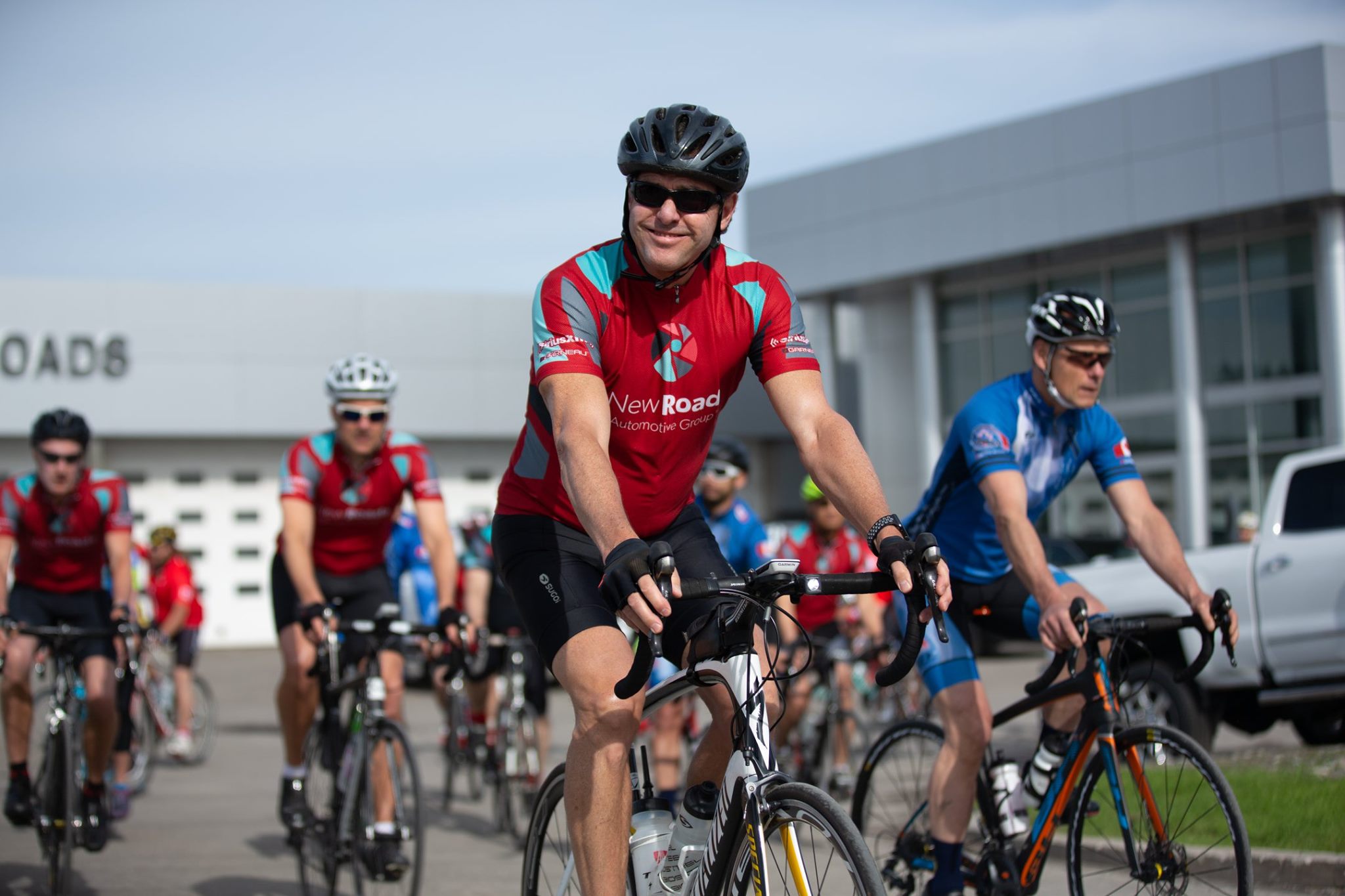 On Sunday, May 26th, the NewRoads LakeRide enjoyed their 4th annual in support Southlake Regional Health Centre. To date the NewRoads LakeRide has raised $85,000 for Southlake. From replacing ageing equipment to putting the newest, state-of-the-art tools in the hands of Southlake staff, support from the NewRoads LakeRide means that patients in our growing community – our family, friends and neighbours – can continue to rely on Southlake to provide world-class care close to home. Proceeds from this event will support the purchase of urgently-needed equipment at Southlake that is vital in providing world-class patient care, close to home.
The event began at 8 AM as riders started their registration as good luck would have it, the weather was beautiful once. Cat5 Cycling Cases and Combo Packs went to ever rider who registered early. It was also amazing to see our NewRoads Jersey's from previous Years worn proudly by returning riders.
TREK Aurora entered their own team this year and also made time to service our riders bikes with free bike inspections! Thanks Paul!! Our Top Team, MayFair Electric Lead by Gianni Favret raised a total of $4,195 and our Top individual fundraiser Brenda Gordon raised $1,200.
NewRoads President, Michael Croxon, presented a $27,845 cheque to Southlake President Arden Krystal and Foundation President Susen Mullen, followed by the singing of O'Canada by Arianna Botas, and warm opening remarks were made by Kelly Broome NewRoads Community, Jim Van Dusen NewRoads Chief operating Office, Michael Croxon President and CEO NewRoads Automotive Group, Susan Mullin President Southlake Foundation, Ed Veal National Cycling Champion, and Thomas Carrique Ontario Provincial Police Commissioner about the NewRoads team, emphasizing tremendous gratitude for these companies, athletes and 270 participants.
The ride went very well with only a little wind that caused a little trouble, our rest stops were well stocked and run by NewRoads Community Crew from Toyota, Mazda, Chrysler, and Subaru!
On Sunday, May 26th, the NewRoads LakeRide enjoyed their 4th annual in support Southlake
A delicious BBQ prepared by NewRoads GM Team in their All-New Service Drive Thru marking it their un-official Grand opening. The sun shined just a little bit brighter as people mingled and experienced a feeling of pride and satisfaction at completing the NewRoads LakeRide and raising a significant amount of money for Southlake.
It truly was a day of community, giving back and having fun as many people came together not only to ride but also to volunteer their time for such a good cause.
See more photos from the event here.
Save the Date for our 5th Annual NewRoads LakeRide
Sunday, May 24th, 2020 hosted at the NewRoads Centre for Performing Arts.
To learn more about the NewRoads Community Crew and where you might find them next visit www.newroads.ca/community and remember Community Matters at NewRoads!