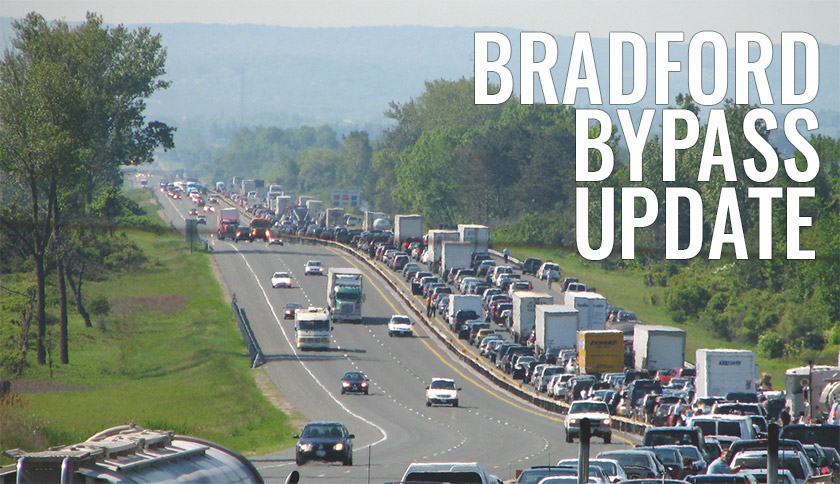 Since the late-1990s, the Ontario Government has toyed with the idea of creating a bypass between Highway 400 and Highway 404 – known simply as the "Bradford Bypass."  However, as governments have changed and other mandates have been given priority, the Bradford Bypass has failed to go any further than initial planning stages.
Similar to the Hwy 404 extension that opened in September 2014, the Bradford Bypass would help to alleviate the traffic congestion north of the city – helping locals enjoy a more efficient and less stressful commute.
While there are still no imminent plans to build the extension, a recent surge in local support from the Township of Bradford West Gwillimbury and the surrounding municipalities has given hope that the extension could undergo construction sooner rather than later.
Proposed Route               
The suggested 16 km route would connect with Highway 400 between Line 8 and Line 9 in Bradford West Gwillimbury. The four lane highway would then proceed southeast, crossing over the West Holland River into East Gwillimbury. It would then continue east before crossing the East Holland River – passing immediately south of the Silver Lakes Golf and Country Club. Proceeding parallel with the Queensville sideroad – the bypass would eventually connect at Highway 404 just north of Queensville. Drivers would also be given westward access to the Bradford Bypass via an interchange located on Leslie Street.
Support from Ministry of Transportation
Although the assessment was completed years ago, the Ministry of Transportation considered the connector a major priority and necessary project given the influx of new homes and residents in the surrounding areas. At the time, the Ministry estimated that the new roadway would need to be completed by 2025 to meet demand, although it appears unlikely now that it will be finished by this date.
Support from Local Governments
While there aren't any imminent provincial plans to build the extension, there has been a strong backing from municipal governments over the last several months.
Bradford West Gwillimbury Mayor Rob Keffer stated in January there were positive signs that project would begin soon, given the strong support from both his government and the surrounding municipalities. Keffer gave off an encouraging impression following a meeting he had with Ministry of Transportation Minister Steven Del Duca earlier in the year.
"This initial meeting was an excellent start," Keffer said, "There is a clear interest in working together to convince our partners within the provincial government that the Link is a critical piece of infrastructure missing from the regional transportation network.
Brea Bartholet of the Bradford West Gwillimbury Topic.
"It would certainly alleviate backups in Bradford and would help the travel of trucks east to west heading closer to the north," Keffer added. "Hopefully there will be good news for the future. Our area mayors are committed to move this forward and there certainly will be further meetings."