NewRoads Finds Nudity | Bare Oaks Family Naturist Park
COMMUNITY MATTERS
Jun 24th, 2013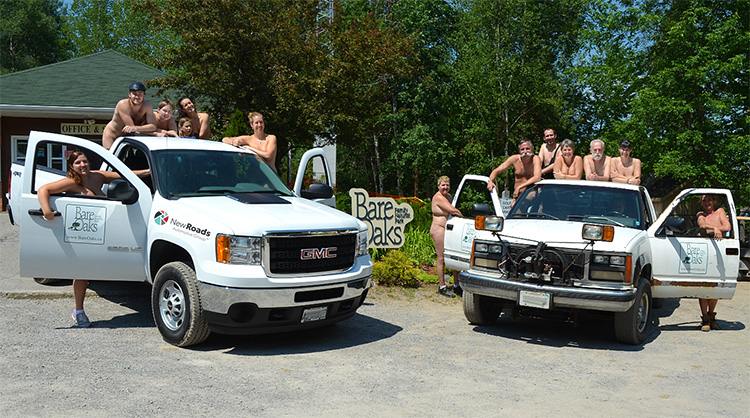 NewRoads Finds Nudity at Bare Oaks Family Naturist Park in East Gwillimbury
When I think of the words "Delivery" and "Naked" together, my first thought is the birth of a baby!
At NewRoads we value the fun culture we've created. It's a place where people can express themselves, have fun but also perform at the highest levels and know they'll always be treated with respect.  We ensure every customer also receives the same level of respect and we encourage "fun" throughout the vehicle buying process.
Stephane Dechenes – General Manager at the Bare Oaks Family Naturist Park in East Gwillimbury is a very caring community supporter as well as a guy who know how to have some laughs.  We've gotten to know him here at NewRoads and out in the community.
He recently took delivery of a new GMC pick-up truck.  Their old truck has over 900,000 kilometers on it!  As he says, it's provided good value.   His team decided to take a before (old truck), after (new truck) and completely NAKED picture!  These guys really know how to have fun.
You only live once!
Jim VanDusen, General Manager
NewRoads Chevrolet Cadillac Buick GMC